Live At The Ritz
Riders In The Sky will be performing at The Wellington Ritz Theatre on September 6 at 7:30. Tickets will go on sale to the general public at 6:30 on Friday, July 24. Reserved tickets are $45.00.
For your convenience, we will also be offering a BBQ Dinner to all who purchase tickets for the performance. Tickets for the BBQ are $15.00 per person, and can be purchased when you purchase tickets for the performance or later if you choose.
You may purchase tickets in person at the theatre, by calling the theatre at 806-447-0090  or you may order from our website at www.wellingtonritztheatre.com. You won't want to miss this special performance!!
(The following was taken directly from their website)
Riders In The Sky are truly exceptional. By definition, empirical data, and critical acclaim, they stand "hats & shoulders" above the rest of the purveyors of C & W – "Comedy & Western!"
For more than thirty years Riders In The Sky have been keepers of the flame passed on by the Sons of the Pioneers, Gene Autry and Roy Rogers, reviving and revitalizing the genre. And while remaining true to the integrity of Western music, they have themselves become modern-day icons by branding the genre with their own legendary wacky humor and way-out Western wit, and all along encouraging buckaroos and buckarettes to live life "The Cowboy Way!"
Riders In The Sky are exceptional not just in the sense that their music is of superlative standards (they are the ONLY exclusively Western artist to have won a Grammy, and Riders have won two), but by the fact that their accomplishments are an exception to the rule as well.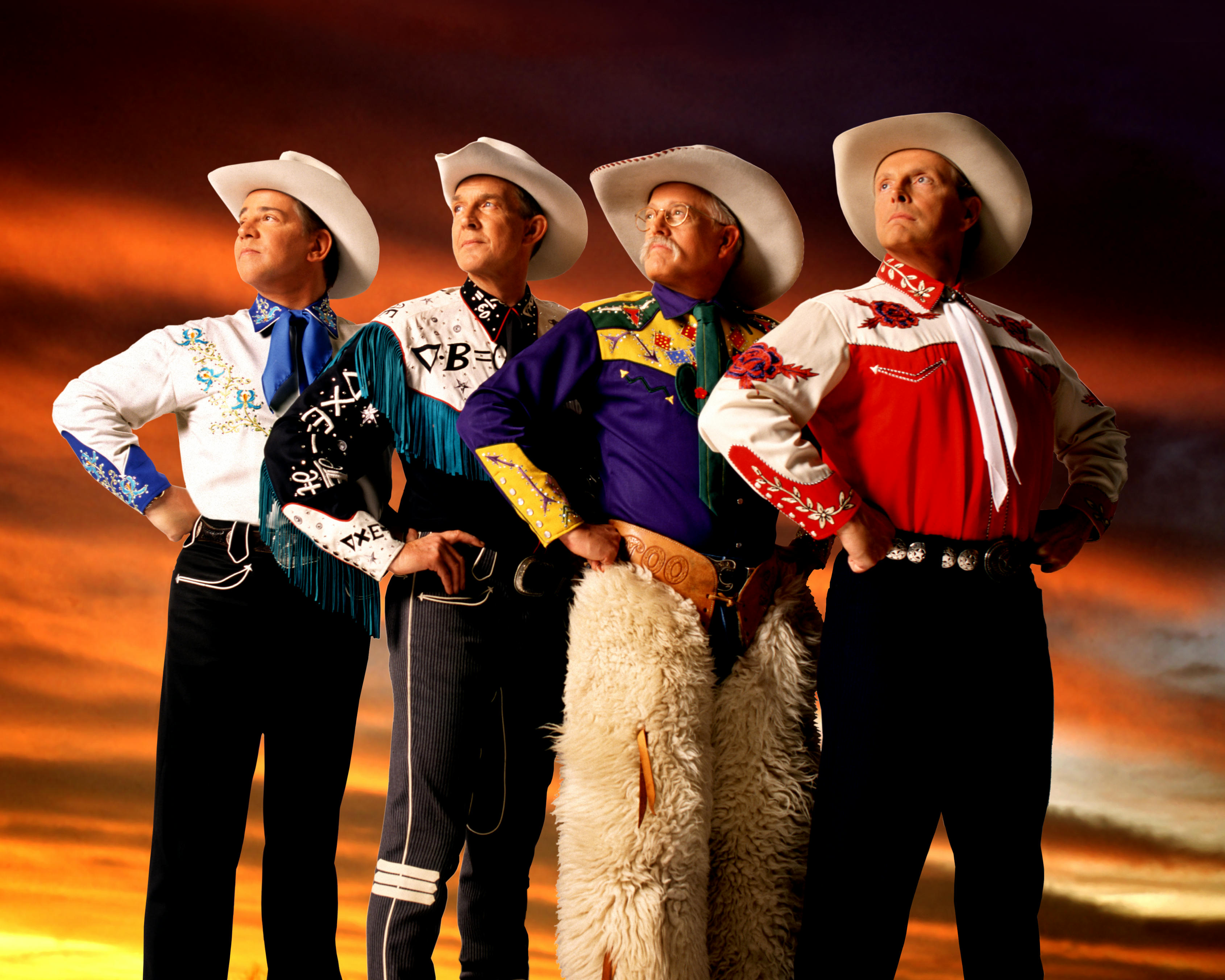 That Riders In The Sky was even formed is a feat of improbable likelihood. What are the odds that a theoretical plasma physicist, a wildlife manager – galvanizer – Life Scout, an English major – shot putter – Bluegrass Boy, and a Polka Hall of Fame member would collectively become "America's Favorite Cowboys?" And even more unlikely is that 30-plus years later, the original members are still "bringing good beef to hungry people" while putting up Ripken-like numbers! The Rolling Stones only made it a few years before replacing Brian Jones; the Sons of the Pioneers constantly changed personnel; even the Ringo-era Beatles only lasted 8 years. (Perhaps Too Slim, as a sophomore writer for the University of Michigan Daily, had an ulterior motive in 1969 by propagating the rumor that Paul McCartney was dead! It's true… go ahead and Google "Paul is dead rumor"…) But the key to keeping the same founding members intact for three decades on the road is more easily explained: "Separate hotel rooms," cracks Ranger Doug!
Ritz Starz Program Returns this July  (News Release from May 13, 2015)

Program Includes Free Movies & Discounts for Members
WELLINGTON, Texas – The popular children's program "Ritz Starz" will return to the Wellington Ritz Theatre this summer. Area youth will enjoy that magic mixture of entertainment and education which has long been a summertime favorite.
Ritz Starz members will attend a free movie and listen to a short story each Monday afternoon in July. Members also receive discounts on all children's events throughout the year, ensuring that participation pays dividends for months to come. Movies will begin each Monday at 1:00 pm and will end at approximately 3:00 pm.
Enrollment forms will be distributed at Wellington Elementary School and can be requested by contacting the Ritz. Eligible children are age four and up. Membership is valid for one year and costs $15.00 if enrolled before June 15 and $20.00 if enrolled after June 15. All former Ritz Starz members must renew their membership in order to participate.
You may return enrollment forms by bringing them to the Ritz during open hours or you may arrive early at the first event on Monday, July 6. If planning to return forms on July 6, please allow thirty minutes before the movie begins.
For more information visit www.WellingtonRitzTheatre.com, contact 806-447-0090, or email manager@wellingtonritztheatre.com.
 C O M I N G    S O O N
September 6          Riders In The Sky
October 10         Crystal Gayle Live In Concert
October 19         Storybook Theatre performance of "The New Little Red Riding Hood" at 6:30
October 26         Canned Food Drive to benefit local food pantries
November 7       Little Texas Live In Concert
December 14      Polar Express Pajama Party/Toy Drive for CASA